A Hybrid Advice Platform for Canadian Financial Advisors
MoneyGaps is an online tool for financial advisors who believe ALL Canadians deserve financial planning.
Try it for free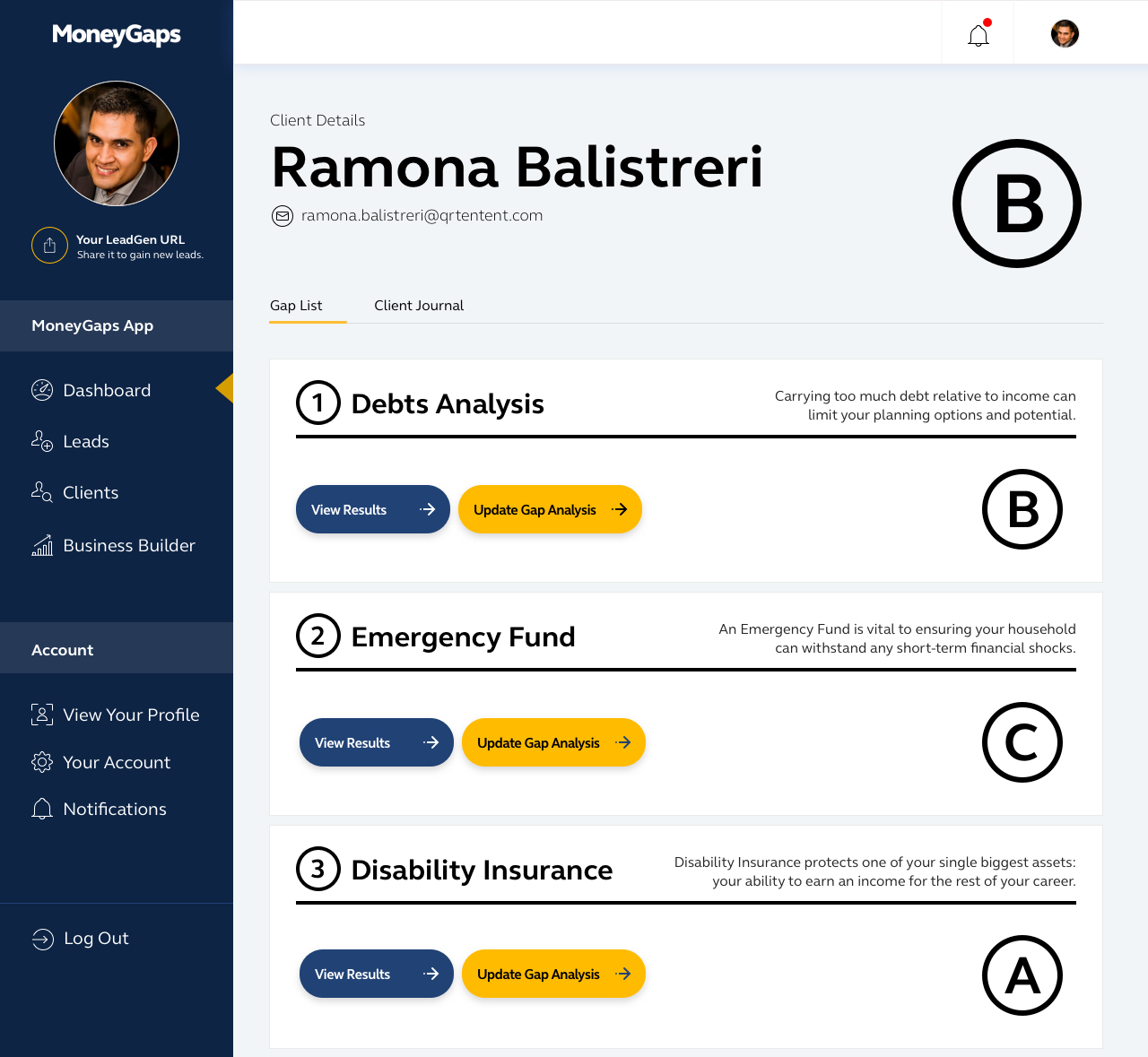 MoneyGaps is a complete, end-to-end online solution.
Find and convert leads. Analyse clients with state-of-the-art tools.
Generate plain-English recommendations that clients understand.
Get started in 5 minutes
Leads.

Use your MoneyGaps profile page to find new leads. Each lead comes directly to you with actionable data from our Snapshot Tool.

Clients.

See all the gaps in your clients' finances instantly on the client dashboard. You'll know all the ways you can help, and they'll have a better understanding of the value of planning.

Analysis.

Generate an easy-to-understand report card with a grade for different categories, and an overall Grade Point Average. MoneyGaps has 8 custom Gap Analysis Tools based on industry best-practices.

Compliance.

Automatically generated "Reason Why" letters for every analysis you provide and every decision a client makes. Timestamped and signed.

Reporting.

Get alerts to help you provide planning and follow up on recommendations. Reduce client meeting preparation time. Automated client journals.

Referrals.

Automatically refer clients to your custom third-party network of professionals. Lawyer referrals for estate plans. Accountant referrals for tax preparation and planning. And more
Fits your current workflow.
No lock-in. No commitment.
Product-agnostic analysis tools.

MoneyGaps helps you provide actionable advice for your clients using our custom algorithms based on award-winning research. Fast, efficient, and customizable. Use any services or products in tandem with MoneyGaps.

Finally offer your clients a holistic view, not just pieces.

From beginning to end, MoneyGaps is focused on shifting clients' mindsets that financial advice is only about investing or insurance. Give a 360 degree view of people's financial lives.

Compliance. Built in.

Reduce the burden of compliance. Increase accountability and transparency for both you and clients with automatically generated "Reasons Why" letters for all advice, not just regulator-required activities.
Pricing
Each MoneyGaps plan includes the ability to generate leads and analyse clients.
Plans include a 30-day free trial. Free cancellation anytime. All prices in CAD excluding tax.
Do you have a coupon?
It's easy
Get started in minutes
…with a 30 day free trial
No software to install
No long-term contracts
Secure by design using strong encryption
Sign up now
MoneyGaps is Canadian owned and operated. All prices in Canadian dollars.
Have a question?
Get in touch